Working...

Denton Wolf Named Sperry District Teacher of the Year
Denton Wolf Named Sperry Teacher of the Year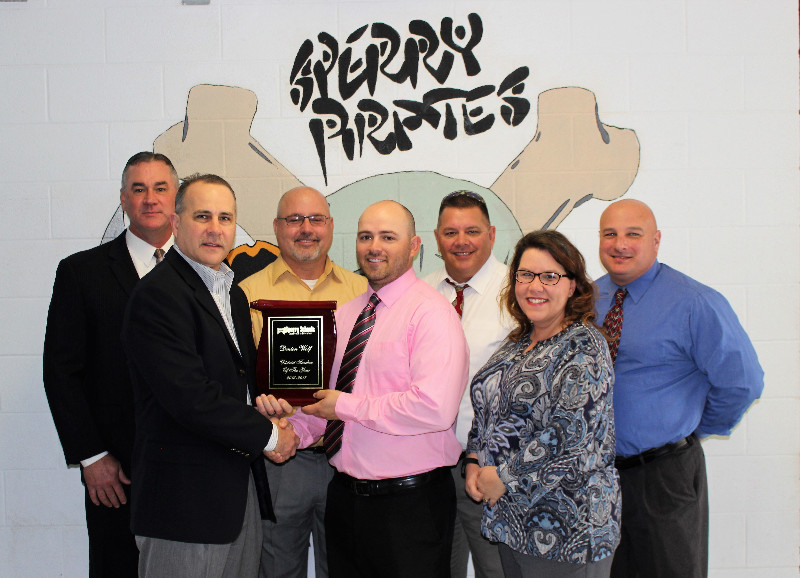 The halls of Sperry High School have been familiar to 2017 Sperry Public Schools District Teacher of the Year Denton Wolf for far longer than the four years he has been a teacher there; he walked these same halls as a high school student, and was taught by some of the same teachers he now works with as a colleague. Mr. Wolf was the Salutatorian of his graduating class at Sperry High School in 2008. He attended the College of the Ozarks in Point Lookout, Missouri on a baseball scholarship, graduating Summa Cum Laude in 2013 with a Bachelor's of Science degree in Mathematics. After graduating college, Wolf returned to Sperry High School to begin his teaching career in the fall of 2013, and since then keeps a busy school year as he assists in coaching football in the fall and baseball in the spring, and teaches Algebra II, trigonometry, and pre-calculus all day throughout the school year.
"I'm not surprised that Mr. Wolf has been given this honor," Sperry High School Principal Randy Shaw said. "Students find him approachable; he tries to be available for them and does what it takes for them to learn the material. It is easy to see he loves teaching and wants his students to share his appreciation of math. As a member of this faculty, he is dependable, one of my go-to teachers when I need something done."
Mr. Wolf is known by students as someone who "has a great personality, and makes us feel important." One student noted that "even though what he's teaching is difficult to learn sometimes, he makes it interesting so we want to learn it." Students know about Mr. Wolf's impact in the classroom long before they are ready for any of his classes themselves, and they realize the positive effect it can have on their future. "I can't wait to get in his class," one sophomore student said. "I know if I do well in his class, I'll be ready for my college math."
"I have always been proud of the quality of teachers at Sperry, and the those chosen as Teacher of the Year generally illustrate the highest levels of that quality," Sperry Superintendent Dr. Brain Beagles said, "but it truly speaks volumes when teachers who have taught for two or more decades select a colleague for this honor that they themselves once had as a student."
"I knew Mr. Wolf when he was a student here," said Sperry School Board President Jeff Carter said, "and followed his progress through his college years. I believe we are fortunate that someone of his caliber chose to return to teach the next generation of our community."